New Whole Building Embodied Carbon Policy in CALGreen
Read Time 6 mins | Written by: Alex Bantock
California's pivotal approval of a whole building embodied carbon policy in CALGreen will be effective from July 1, 2024. This landmark decision, marking the first of its kind in the U.S., symbolizes a pivotal shift in sustainable construction, setting a historic precedent for building codes nationwide.
In a groundbreaking decision, the California Building Standards Commission (CBSC) has approved a new whole building embodied carbon policy in the California Green Building Standards Code, known as CALGreen, effective as of the 1st of July 2024. With more details to come, the CBSC has voted for two amendments to the California Green Building Code (CALGreen) that reduce embodied carbon emissions in commercial buildings over 100,000 sq feet and school projects over 50,000 sq ft in both adaptive reuse and new construction projects. This pioneering move marks the first whole building lifecycle assessment (WBLCA) policy in the United States, setting a historic precedent.
The significance of this policy cannot be understated. As the nation (and the world) grapples with the urgent need to combat climate change, the embodied carbon of construction materials and processes represents a substantial part of the global carbon footprint. By addressing this issue head-on, California is not only promoting sustainable building practices but also leading the way for other states to follow in its footsteps. This policy has the potential to redefine U.S. building codes and environmental movements by ushering in a new era of conscious construction.
The history of CALGreen
CALGreen, Title 24, Part 11 of the California Green Building Standards Code, is the U.S.'s first green building standards code and while it has a brief history, it is a noteworthy one.
It all started in 2007, when Assembly Bill 32 (AB 32), California's groundbreaking climate initiative, added the California Global Warming Solutions Act to its California Health and Safety Code. AB 32's law requiring a comprehensive program for the reduction of greenhouse gases to 1990 levels by the year 2020, in addition to AB 32's Scoping Plan identifying buildings as the second largest source of California's greenhouse gas emissions, highlighted buildings' role in achieving any emissions targets.
Subsequently, the CBSC was given the authority to develop green building standards to help achieve the goals set out in AB 32. With state agency representatives, industry stakeholders and interested parties as enthusiastic contributors to the initial code development process, the CBSC created the new green building standards, with the goals of:
Reducing greenhouse gas emissions from buildings

Promoting environmentally responsible, cost-effective, healthier places to live and work

Reducing energy and water consumption

Responding to the environmental directives of the administration
And here, the California Green Building Standards Code, or CALGreen, began its journey as a set of recommendations that encourage sustainable construction.
The first edition of CALGreen, made effective in August 2008, contained only voluntary measures, many of which became mandatory in the 2010 CALGreen edition (which went into effect in January 2011). The 2010 edition of the code was also redesigned to be more user-friendly, with separate chapters for residential and nonresidential occupancies containing the mandatory standards for each, as well as voluntary measures for more stringent standards in the appendix chapters. The voluntary measures were divided into two tiers, with Tier 1 requirements being more stringent than the base mandatory CALGreen provisions, and Tier 2 achieving an even higher standard. These tiers provide designers and authorities with the opportunity to go beyond the minimum mandatory requirements and promote more sustainable design and construction practices that reduce a building's carbon footprint.
Since then, CALGreen has undergone regular upgrades and additions that address prominent environmental issues - which is where we now find ourselves, with embodied carbon finally making its debut.
New carbon reduction requirements for non-residential buildings
The most current 2022 CALGreen includes a reserved mandatory section for the deconstruction and reuse of existing structures, as well as Tier 1 and Tier 2 voluntary measures. The 2022 CALGreen also includes a reserved mandatory Life Cycle Assessment (LCA) section, with the intent of indirectly conserving energy and resources. The voluntary component of the LCA section requires a whole building life cycle assessment (WBLCA) to be conducted that achieves at least a 10% improvement in environmental impact for specific building components, however, the most recent approval will see that this WBLCA component becomes mandatory - making it the first whole building embodied carbon policy in the U.S. This is a monumental win for organisations, such as the AIA California Climate Action Committee, that have been championing the cause for the last few years.
It is said that amendments will start by giving large projects generous limits, from which the industry can become familiar with WBLCA and collect data that will inform appropriate benchmarks for future standards. A document released by the CBSC outlines the following proposed carbon reduction measures, which include new mandatory measures and updated voluntary measures accordingly: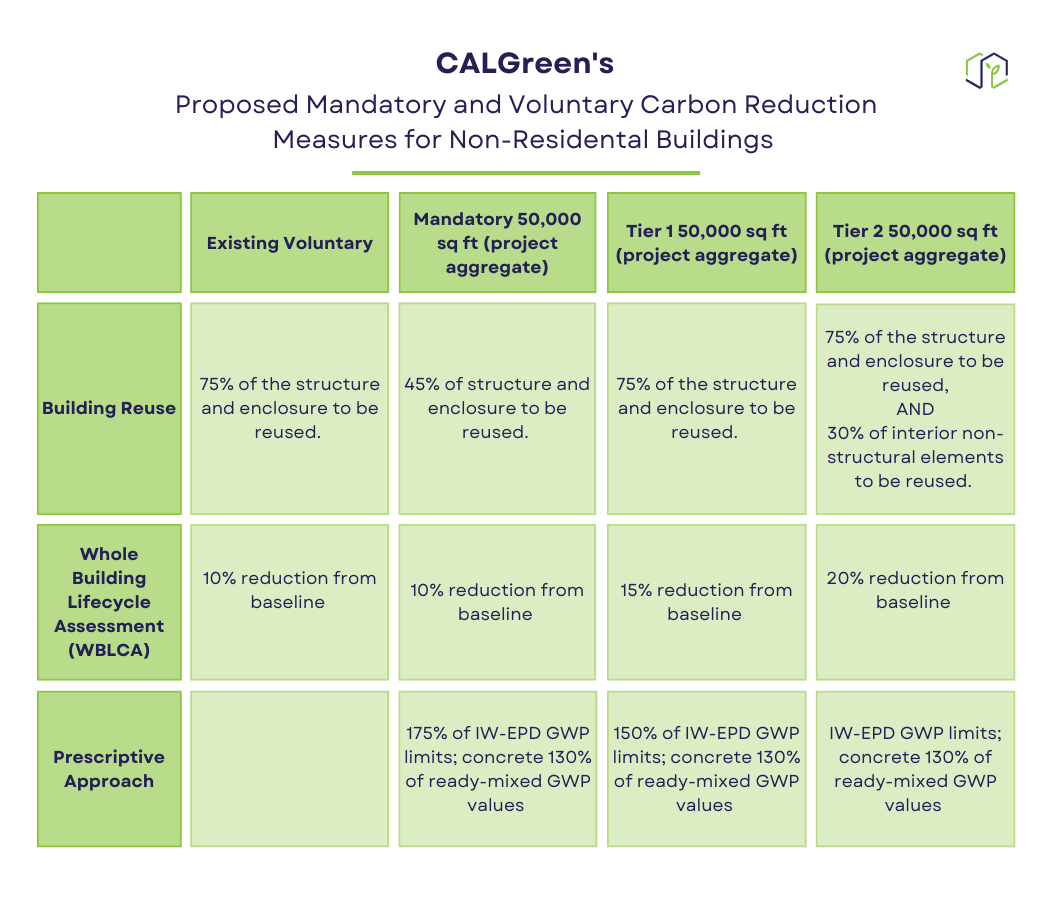 How CALGreen Affects Green Building Codes in the U.S.
The future of CALGreen holds exciting prospects, with the newly approved whole building embodied carbon policy indicating that California continues to push for sustainable construction practices. The proposed measures hint at a trajectory towards greater reuse, more stringent greenhouse gas emissions controls, and expanded life cycle assessments. These measures reflect a holistic approach to sustainability, considering not just the use phase but the entire lifecycle of a building, something the U.S. has yet to engage in.
CALGreen's influence on the U.S. green building landscape will also be profound, as it not only sets a precedent as the first state-mandated green building code but also serves as a useful blueprint for other states to follow suit. In recent years other code development organizations around the nation, and in fact the world, have begun to create their own sustainable building codes, using CALGreen as inspiration. Moreover, the federal government is said to have shown interest in CALGreen's approach, hinting that maybe (and hopefully) it will soon influence broader national policies. The ripple effect of this decision will undoubtedly be felt across the entire U.S. construction industry and contribute significantly to national and global environmental conservation efforts.
Resources:
We'd love to hear from you!
Do you have any comments or questions? Pop us a message and we will get back to you!