Preoptima Secures £1M in Funding
Read Time 10 mins | Written by: Preoptima Communication Team
London, 2nd of March 2023
Preoptima, the Carbon Hub for the built environment, today announced the closure of a £1M pre-seed funding round led by Nemetschek and joined by Nomea Investments, Climate VC, Carbon13, and leading climate tech angels.
Preoptima's Carbon Hub is set to drive radical reductions in whole life carbon in the built environment globally. The funding will be used to launch their WholeLifeCarbon API, which will provide uniquely accurate carbon calculations that are seamlessly integrated with existing AEC workflows and toolsets.
This will extend their current product offering, which uses generative design and AI to maximise carbon avoidance from the earliest conceptual stage.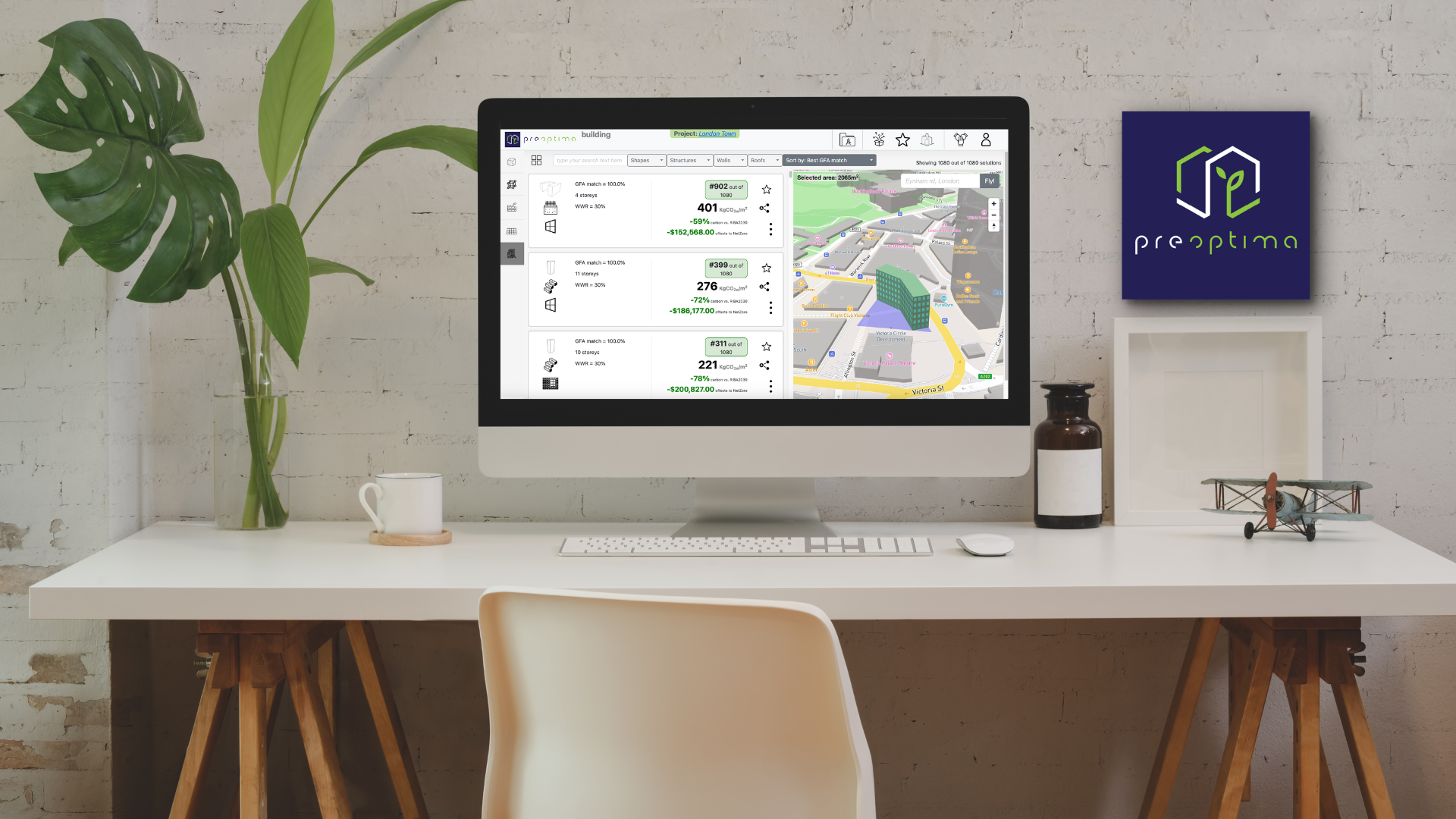 "At Preoptima, we're on a mission to radically reduce GHG emissions from the built environment, which is one of the most impactful levers for reducing emissions globally," said Aileen Ryan, co-founder and CEO of Preoptima.
"Based on the seminal research of my co-founders, Professor Francesco Pomponi and Dr Bernardino D'Amico, we're bringing a whole new approach to tackling this issue, using generative AI at the intersection of Architecture and Engineering. We are thrilled by the support of ambitious, successful investors who see the disruptive potential of our technology" added Ryan.
Tanja Kufner, Head of Ventures and Startups at Nemetschek said: "Preoptima is tackling one of the most pressing issues in the built environment today. We were highly impressed with the founders and what they already proved, and can't wait to see how Preoptima will make an impact as addressing emissions from the built environment becomes more urgent than ever before. Nemetscheck offers market-leading software solutions for the entire AEC lifecycle. The whole-life carbon approach of Preoptima is therefore a natural fit for us.".
Nadav Steinmetz, founder and CEO of Nomea Investments explained the rationale for investment in light of Nomea's strategy: "We've been very impressed with the team at Preoptima since our first meeting. Their technology holds great potential in decarbonizing buildings and helping developers and real estate players make informed decisions to minimize their carbon footprint. This investment fits perfectly within our strategy to back purpose-driven founders that build scalable and sustainable products which accelerate the transition to Net Zero emissions. We are excited to be on board and are committed to supporting the team as they continue to expand their operations".
Samia Qader, Senior Principal at Climate VC, emphasized the science-based nature of the Preoptima approach: "We are thrilled to make our first investment into the built environment with Preoptima. We have not come across a stronger, more well-positioned team to address the immediate need for carbon reduction in the built environment, applying over a decade of academic research on embodied carbon done by Francesco and his co-founders, they have created the world's first AI platform for real-time carbon planning for buildings and cities."
Michael Langguth, Chief Strategy Officer at Carbon 13 recognised the potential of the team early on: "Preoptima is a perfect example of a balanced co-founding team. Francesco and Bernardino are global experts in sustainability, the built environment, as well as their specific technology. The two joined as a team in our cohort 3 to find a commercial cofounder, which they did in Aileen. Aileen is the perfect addition to Preoptima, as she has worked with a very similar technical cofounding team before and had brought that business to a successful exit. Carbon13 are convinced this team will go very far."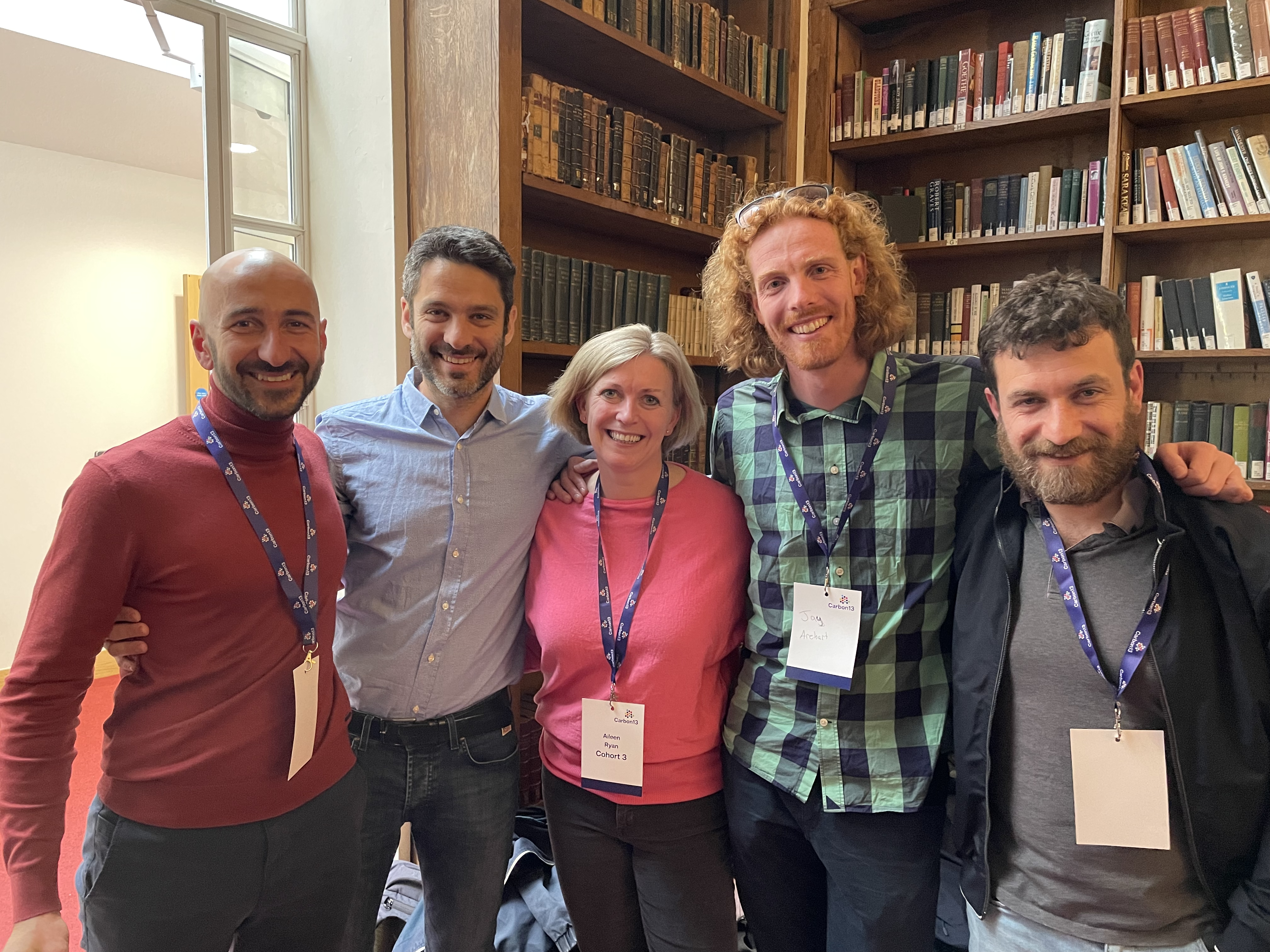 About Preoptima
Preoptima is an impact-driven climate tech venture, on a mission to decarbonising the global built environment through a whole-life approach.
Preoptima takes any sketch or massing model at the earliest possible stage and develops hundreds of realistic design variants, each with an accurate bill of quantities and geolocated whole life carbon assessments. Through the AI-powered generative design engine, users can explore the full design space and identify lower carbon solutions that fit the often contrasting requirements of architects, engineers, clients, developers and local authorities.
Since its launch in the second half of 2022, Preoptima has quickly achieved national and international visibility. Preoptima is an Innovative Startup Member of the UK Green Building Council (UKGBC) and has been featured in the UKGBC's Solutions Library. Preoptima is also one of Tech Nation's Rising Stars 5.0 City Winners and has recently been accepted to the Google's Startups for Sustainable Development Programme. With pilot projects on both sides of the Atlantic, Preoptima aims to accelerate its global growth to avoid hundreds of megatonnes of emissions.

About Nemetschek
The Nemetschek Group is a pioneer for digital transformation in the AEC/O and the media & entertainment industries. With its intelligent software solutions, it covers the entire lifecycle of building and infrastructure projects, guides its customers into the future of digitalization and enables them to shape the world.
As one of the leading corporate groups worldwide in this sector, the Nemetschek Group increases quality in the building process and improves the digital workflow for all those involved. Customers can design, build, and manage buildings more efficiently, sustainably and resource-saving. The focus is on the use of open standards (OPEN BIM). The portfolio also includes digital solutions for visualization, 3D modeling, and animation. The innovative solutions of the brands ALLPLAN, Bluebeam, Crem Solutions, dRofus, FRILO, Graphisoft, Maxon, Nevaris, RISA, SCIA, Solibri, Spacewell and Vectorworks in the four customer-oriented segments are used by approximately 6.5 million users worldwide.
Founded by Prof. Georg Nemetschek in 1963, the Nemetschek Group today employs around 3,400 experts all over the world. Publicly listed since 1999 and part of the MDAX and TecDAX, Nemetschek generated revenues of EUR 801.8 million and an EBITDA of EUR 257.0 million in 2022, according to preliminary figures.

About Nomea Investments
Nomea is a UK based leading climate tech fund that invests in exceptional companies enabling global decarbonization. We invest in disruptive early stage climate tech ventures in Europe, the UK, and Israel that accelerate the transition to a sustainable energy future. We partner with intrepid founders by providing capital, strategic guidance, operational expertise, and business development to scale breakthrough climate innovations. Our investment strategy focuses on five high emitting industries that are on the verge of vast technological transformation and will become the backbone of the net zero economy.

About Climate VC
Climate VC was established to invest in moonshot climate tech companies with high impact potential and high perceived risk relative to the market. We partner with start-ups through their first major milestones and into their next funding round, serving as their "validation capital". In order to meet our impact investment criteria, each company must have a path towards 10Mt of CO2e reduction / year for a period of 10 years.

About Carbon13
Carbon13 is the Venture Builder for the climate emergency. Our programmes help determined people to build companies that adjust economies for a net zero future. We do this through two programmes that identify thousands of the worlds most determined entrepreneurs to build ventures capable of removing at least 10M tonnes of CO2e emissions.
The Venture Builder programme runs twice a year in Cambridge, UK, and is launching in Berlin, Germany. The Venture Launchpad is a global programme open to pre seed ClimateTech startups with cohort two launching in May in the UK.
Each programme is supported by a world class ecosystem includingover 250 domain experts including carbon experts, entrepreneurs in residence and strategic corporate partners such as EY, Arm and Barclays. For more information on Carbon13 venture programmes please visit https://carbonthirteen.com
We'd love to hear from you!
Do you have any comments or questions? Pop us a message and we will get back to you!